Snow falling on the summit of Gran Canaria
A few days ago, the State Meteorological Agency (AEMET) already predicted the possibility of snow falling on the summit of Gran Canaria. Today it is already a reality. The Cabildo has closed the access to recreational and camping areas above 1400m.
The roads that will be closed are: Cazadores on GC-130, GC-134, GC-135 in San Mateo; on GC-150 in Tejeda and the GC-600 Ayacata. You should keep an eye on the Cabildo news for updates on road conditions.
The Guardia Civil reminds that all accesses to the summit are closed due to weather conditions. This type of travel should be avoided in order to prevent the grouping of people for the health prevention of Covid 19.
The rains have left for example in Teror more than 15 litres per square metre. We leave you the official image of Carreteras del Cabildo de Gran Canaria: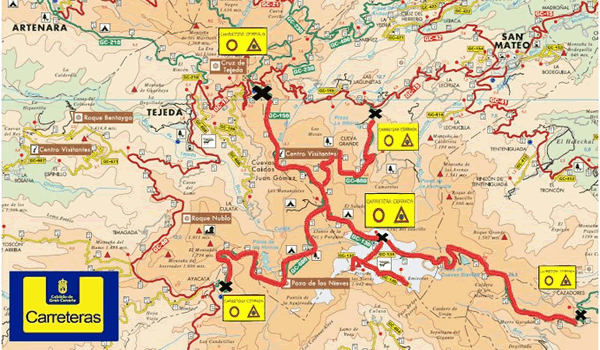 From here we advise you not to go up to the summit because all the roads are closed and this will help the prevention of Covid-19.
From: laprovincia.es